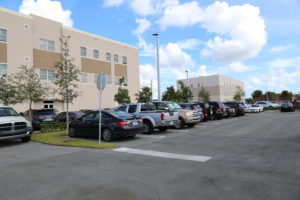 Gaumard Scientific is a manufacturer, but its products are much more sophisticated than the average company's. It produces a line of human simulators used to train today's health care professionals to respond to real-world medical issues in a safe learning environment. These ultra-realistic simulators represent patients at all ages and integrate electronics that simulate vital signs and more. As demand for their products is increasing, Gaumard Scientific is searching for greater efficiencies—particularly among its sales and service teams.
SAP Business One to the Core
Gaumard Scientific implemented SAP Business One in 2014 to connect its CRM and financial functions. The next step will be running the core of its business—manufacturing—through the system. "From the plastic, molds of the plastic for the mannequins, all the way up to the electronics and the software that controls them—anything short of building the computers that goes with the simulator, we manufacture here," explained Cristina Ramirez, SAP system administrator at Gaumard Scientific.
Fueled by Data Analytics
Prior to launching SAP Business One, each of Gaumard Scientific's departments used different databases to track information. Today, each user—from customer service to sales and all the way up to management—has access to the data they need to make informed decisions.
Ramirez and her team of experts dedicated to running SAP Business One are taking advantage of this data as they set up customized reports that look and feel like a dashboard featuring the company's KPIs. "We have more information to give our customers when they need it," Ramirez said, adding that the major impact to Gaumard Scientific's customers is its ability to proactively fix issues before they even happen. "This will definitely benefit our customers," she added.
Focusing on the Positive
Sometimes the most challenging part of a software implementation is getting users on board. While some users can immediately recognize the benefits, Ramirez said there are others who tend to focus on the negatives. But she and her team have developed techniques to get over these hurdles with users. "It is almost like a psychologist's job to try to help users focus on the good things as we roll out new features," she said.
At the management level, she adds that the effects of the enhancements her team of specialists have been making to SAP Business One have been substantial. "Management is getting information that they were not seeing before, and it is helping them make decisions. When management asks questions about what certain reports mean, then you know those reports are being reviewed," she said.
Ramirez discussed how her team has been managing SAP Business One in a conversation with Ann Marie Gray, VP of content at ASUG. She shared some of the wins the company has achieved, what KPIs they're tracking, and how her team encourages user adoption.
Fill out the form to read the complete interview.