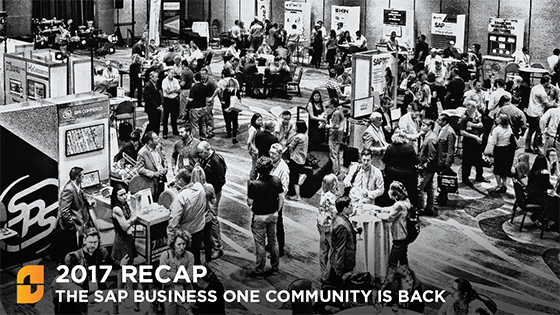 When we started working on Biz.ONE we knew that we were going to shake things up. This was partly our goal and partly a happy consequence of bringing new blood into the Biz.ONE community. We knew that in order to be successful we needed to keep one objective in mind amidst all these changes: Biz.ONE is an event built for the SAP Business One user community.
At Eventful, we pride ourselves on powering professional learning communities where great ideas get shared and people make new connections. Each step of our process – from the months of research and interviews, to writing the Biz.ONE 2017 Research Report, to tracking down the very best stories and speakers – is designed to highlight customer perspectives and insight, to move these experiences into a shared limelight. We sought out the opinions of experts and thought leaders, but found the beating heart of Biz.ONE in the conversations we had with controllers, IT managers, supply chain directors, application developers, operations managers, presidents, and owners – all from the small and medium businesses that use Business One.
In Anaheim, we saw these stories come to life! If you were on-site with us, you felt energy in the Exhibition Hall during breaks. You saw lightbulbs in breakout sessions. You were drawn to stories of human spirit on our keynote stage. These were an incredible two and a half days of profound focus on the experiences of Business One users.
If you missed it this year, don't worry. We'll be back. Research for Biz.ONE 2018 begins soon has finished and we have uncovered the new trends and challenges facing the Business One Community.
As Biz.ONE continues to grow, we're excited to bring even more new voices to the table – your voices. We hope you'll be part of this growing movement and latch on the benefits of a strong user community. Let's work together and Power the Business One Community.